The Green Parent magazine
Green Parent Magazine focuses on a green home life style.
https://www.thegreenparent.co.uk
The Green Parent website, home of the UK's leading green lifestyle magazine. You'll find lots of information and inspiration here, whether you want to read articles on natural parenting or try out guilt-free shopping.
This gorgeous magazine covers all aspects of family life from birth to alternative education, eco house and garden to nutrition. Each issue comes with a pull-out Green Kids magazine packed with nature activities and games.

We apologise if any of these links to external site have died recently! It happens! Reviewed December 2006.

Envocare
A site with tons of information on environmentally friendly matters including printer cartridges!
The "Envocare" ® site was conceived, and will continue to be developed, as a central source of data on environmental issues.
Our aim is to provide useful information on the site, we do not offer any kind of recycling or trading service.


300 Recycling Ltd

300 Recycling Ltd are the global market recycler of all aspects of printer consumables.

https://300recycling.com/

This includes toner, laser and ink jet cartridges and includes cartridges from photocopiers and fax machines. We recycle either the consumable for example the toner cartridge or toner bottle in full or the constituent parts such as the actual toner powder.

We are one of the very few companies who offer a recycling service for toner bottles and fusers. Currently around 95% of this material ends up in landfill. 300 Recycling Ltd fundamental ethoses are to work with committed partners -both individuals and companies- to reduce the environmental impact of these materials.



Legal Biking in Austria

We want the free way for bikers!
https://www.upmove-mtb.eu/wir-wollen-legal-biken/legal-biken/983/
In Austria Mountain biking is illegal on most dirt paths. The legislation was drawn up decades ago and never adapted to more modern forms of sport and leisure. The sport of off-road cycling is thus pushed into the illegality; in the exercise of our leisure activities, we often feel treated as criminals. Our only way to get out of this dilemma is to change the forest law. The first 'Trutzparty' took place at the Muckenkogel. Mountain bikers demonstratively pushed their mountain bikes up the mountain because cycling is officially prohibited by law.
Such a backdrop as this is similar in England with cycle access in the countryside restricted to public bridleways, of which there are too few and the surfaces are often inpasseable due to deeply rutted mud from the horses.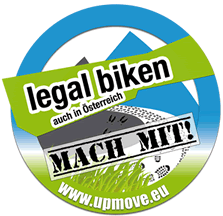 Earth911


An American site with many articles and videos related to recycling.
https://earth911.com/
The site has many interesting articles. It contains a section on DIY for saving resources by making your own household products. It also has Eco-Tech with articles on technology related to the environment and recycling. It has a recycling guide and EarthTV, that includes videos on recycling.

Think before you Drink


The Environmental Cost of Bottled Water.
https://insinkerator.co.uk/uk/page/environmental-cost-of-bottled-water

200 billion bottles of water are consumed globally each year, of which 176 billion will end up in landfill or in the ocean. Bottled water is 2000 times more expensive than tap water. It takes three times the volume of water to manufacture the plastic used in one bottle than it does to fill it. Bottled water is the ultimate corporate ruse: taking something we can get for free and selling it back to us for up to 2000x the price.





Bio-degradable and Re-useable Cups

The Problem with Disposable Coffee Cup Recycling.
https://www.cater4you.co.uk/blog/the-problem-with-disposable-coffee-cup-recycling/

For many of us, grabbing a cup of coffee from a high-street chain is just another part of the daily routine. However, when these takeaway cups get thrown away, they often end up in a landfill or being sent to an incinerator, neither of which is good for the environment. This graphic explains just how damaging this process is, and encourages consumers to think about more sustainable solutions.




British Cycling Campaign

Open up countryside paths for people on bikes say outdoor groups.
https://www.britishcycling.org.uk/campaigning/article/20160706-campaigning-news-Open-up-countryside-paths-for-people-on-bikes-say-outdoor-groups-0

Due to archaic public access and rights of way laws, it is currently illegal for people on bikes to access the majority of the countryside in England and Wales. A British Cycling commissioned poll by YouGov has revealed that the majority of people believe cyclists should be allowed. At a time when obesity levels and air pollution in our cities is at an all-time high, we call on the government to act to make sure that the massive opportunity to get active in the countryside is not wasted.